"Rent This"
Who can resist an action film starring the likes of Denzel Washington and Marky Mark? I certainly could not. Ha! Well, I didn't have high expectations for 2 Guns (2013), but I moseyed my way to the theater anyway. Like many others, I wanted to see how a movie teaming two of hollywood's modern day action stars would play out. It played out almost exactly as expected. I wasn't overly impressed, but I didn't regret my time spent with the duo either. It was an average blockbuster movie going experience.
Robert Trench (Washington) and Michael Stigman (Mark Wahlberg) are undercover agents, working for the DEA and Navy in an attempt to bring down drug lord, Papi Greco (Edward James Olmos) in Mexico. After disobeying orders from Jessup (Robert John Burke), his superior, Trench joins Stigman in making a run at Greco by robbing him of $3 million. When it turns out to be $43 million, this causes for a whole host of problems, as Trench and Stigman must decide for themselves who is really to be trusted.
2 Guns is directed by Baltasar Kormákur (101 Reykjavík, Contraband). Kormákur doesn't really have a particularly special vision as a director, and that is not to completely hate on the man. But the film is as pretty average of a take on cinema as you can get. Never once did I think, "Oh, that is a really neat vision from Kormákur." I never thought of the film as much of a director's film at all. It certainly wasn't bad, there just wasn't much to love about it either. But I know that I won't be rushing to the box office to catch Kormákur's next film.
Washington and Wahlberg are really the main focus of the film. If it weren't for them, this movie would have never gotten made. So the experience was highly dependent of their ability to deliver. To an extent, they did just that. We received the same cookie cutter performances that we have grown accustomed to with Washington and Wahlberg. But I think the strongest area of interest when it comes to performances came from Paula Patton, who plays Trench's colleague and love interest, and Bill Paxton, who pulls off playing the villainous Earl. Both actors added an interesting dimension to the film that would have likely been non-existent without their efforts. Olmos, Burke, and James Marsden also lend less than inspiring performances. Nobody was terrible, but there certainly was much to be desired.
The film's writing credits go to a first time silver screen writer, Blake Masters. Well, he didn't completely fall face first, but like Kormákur and the film's actors, his effort was quite uninspiring. The story was nothing that we haven't seen on the big screen hundreds of times, and the dialogue was such that it did nothing to create riveting performances from its actors. The film played off much like a new interpretation of Mr. & Mrs. Smith (2005) or This Means War (2012). Unfortunately for Masters, this wasn't a very engaging debut, but he did enough to earn a second go around. Maybe his next effort will be a bit more original and inspired.
In what should and could have been the film's strong point, 2 Guns dropped the ball on the visual aspects. There was never a point where I became overly impressed by what was being done with the cinematography, the set production, the special effects, or CGI. I really wanted this to be the area where the film experience excelled, but it just kind of treaded along, not trying to be too risky, or interesting. It did the things that it did well, but at what cost? There was nothing challenging about what transpired on screen, and sadly this is why 2 Guns will be one of 2013′s forgotten summer blockbusters.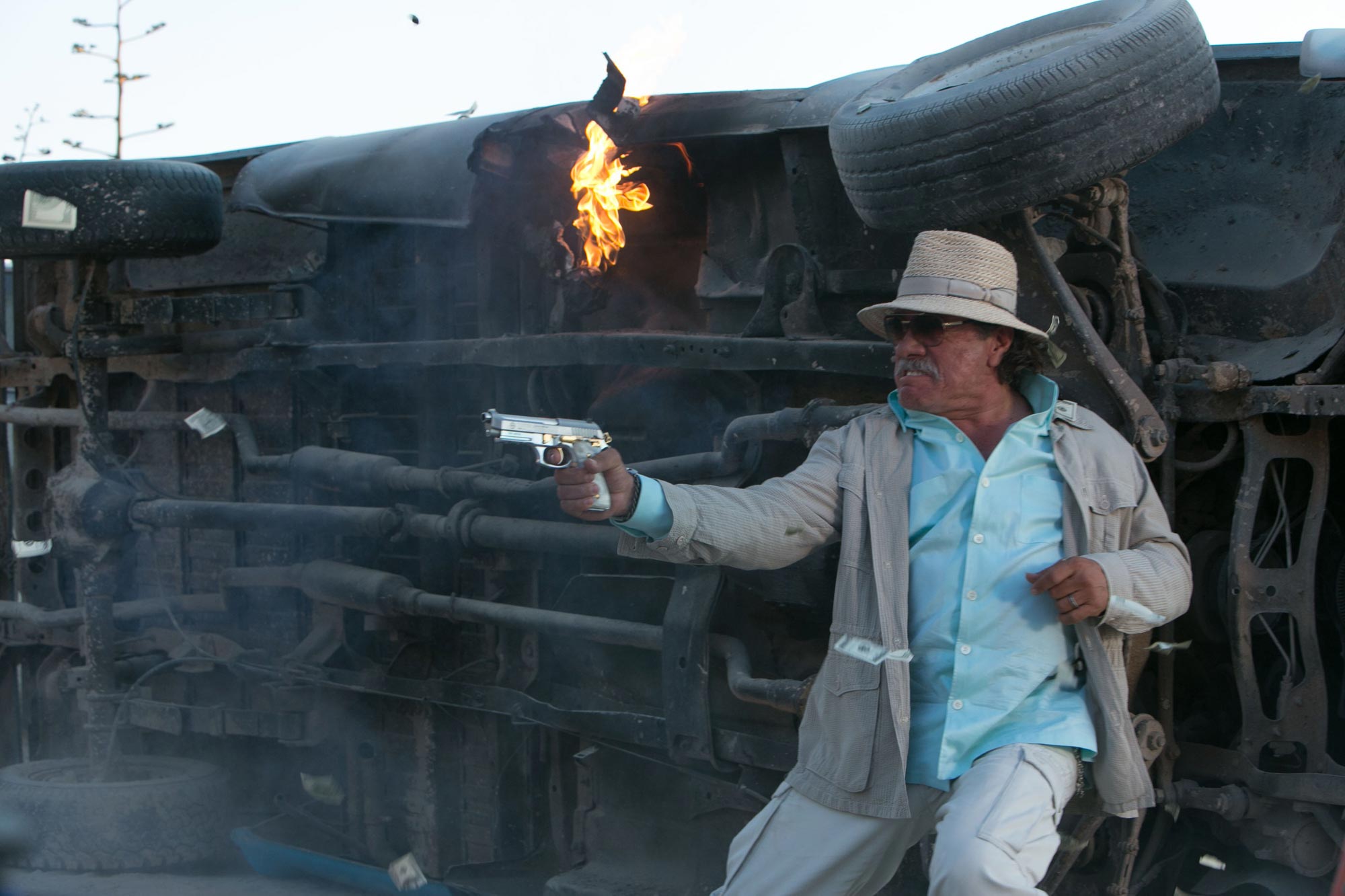 From a sound aspect, the film did everything it needed to hit par. The sound effects were solid, but certainly not mind-blowing. The music was fine, and fit the general aesthetic the film was going intending, but once again, it didn't blow me away. In the same boat as visual effects, I expected a little more here. This is where a film like this makes up its ground, because it usually doesn't with performances and writing. The one thing about sound is that it essentially followed suit with the rest of the film's aspects, it was average.
The Verdict: 2 Guns is typical Washington and Wahlberg fare, and should be a must-see if you are a fan of both actors. But as a whole, the film is just average. There isn't much to get excited about, and even the twists are predictable and uninspired. I would recommend this film as a rental for a cold winter evening, when you just want to stay inside.